Hassle-Free Vehicle Transport with Alaska's Own Experts
Trust an Alaskan Owned Business for Your Vehicle Transportation Needs
Wrightway Auto Carriers is your trusted Alaskan-owned business for all your vehicle transportation needs. We specialize in moving not only cars, but also motorhomes, boats, travel trailers, and more. With our expertise and knowledge of the Alaskan terrain and weather, you can rest assured that your valuable belongings will be transported safely and efficiently.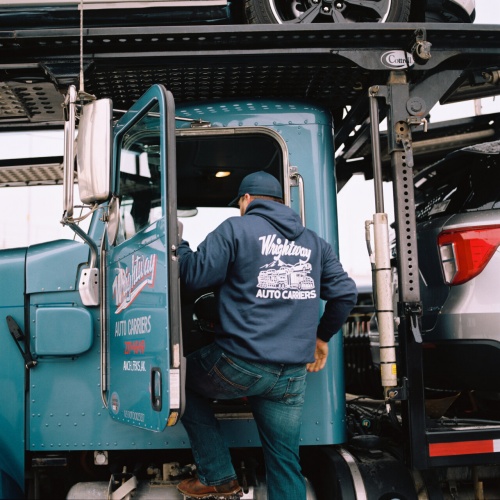 Experience Hassle-Free Vehicle Transport with Alaska's Own Experts
Trust us for a personalized and stress-free transportation experience. Our team of transportation experts is dedicated to providing reliable and efficient service that goes above and beyond your expectations. We take pride in our personalized approach that is tailored to meet the unique needs and preferences of each customer.
Your Expert Alaskan Auto Transport Partner
At Wrightway Auto Carriers, we're more than just an Alaskan-owned business. We're a team of transportation experts who know the ins and outs of navigating Alaska's terrain, weather, and unique logistical challenges. We take pride in providing personalized service that's tailored to meet the specific needs and preferences of each customer. When you choose Wrightway Auto Carriers, you can rest assured that your vehicle transportation needs are in the hands of true professionals who will deliver your vehicle safely and on time, every time.
At Wrightway Auto Carriers, we strive to make vehicle transportation a hassle-free process for our customers. Our simple three-step process ensures that your vehicle is transported safely and efficiently.
To start the process, simply contact us through our website or give us a call. Our friendly team is always ready to answer any questions you may have and guide you through the process.
Once we understand your transportation needs, we will provide you with a detailed quotation tailored to your specific requirements. We believe in complete transparency and will ensure that there are no hidden costs or surprises.
STEP 03
TRANSPORT YOUR CAR
After you have accepted our quote, we will transport your vehicle to its destination safely and efficiently. Our experienced drivers and top-of-the-line equipment ensure that your vehicle arrives in the same condition as when it left.
Established in 1951, Wrightway Auto Carriers has been a pioneer in the vehicle transportation industry in Alaska. With 68 years of experience as a professional car carrier, we have an unparalleled understanding of Alaska's geography and weather, making us experts in quickly, safely, and affordably transporting vehicles across the state. We treat every vehicle as if it were our own, ensuring that it arrives at its destination in the same condition in which it was entrusted to us.
As an Alaskan-owned and operated business, Wrightway Auto Carriers has a legacy of providing exceptional vehicle transportation services for generations. We understand the unique needs and challenges of our customers in Alaska and are committed to providing personalized service that exceeds their expectations.
Meet the Team
Our team is comprised of experienced professionals who are dedicated to providing the highest level of customer service. From our drivers to our support staff, we are all passionate about making your vehicle transportation experience as smooth and stress-free as possible. We pride ourselves on our expertise and knowledge of Alaska's terrain and weather, and our commitment to delivering exceptional service to our customers.
Ready to experience the difference of working with an Alaskan-owned business for your vehicle transportation needs?
Contact Wrightway Auto Carriers today to learn more about our services and schedule transportation for your vehicle. Our team of experts is standing by to help you every step of the way.